| | |
| --- | --- |
| | How to create your own chat bot in 10 clicks |
Bot Libre allows anyone to create their own chat bot, or virtual agent for free, including free hosting, even for commercial bots.
You can create your own bot, and embed it on your own website, or mobile app. You can create bots for fun, for business, for customer support, or for someone to talk to. Bot Libre bots require no programming, and can be trained using several methods. Bots can be trained by importing FAQ's, scripts, and chat logs, reviewing and editing responses in our chat logs interface, through conversations with you and other people, or from listening in on live chat. Bot Libre bots support advanced artificial intelligence to learn and comprehend language. They start out fairly dumb, but the more your train them, the smarter they become. Bots can also be scripted and programmed using AIML, and the Self scripting language.
To create your own bot follow the following 10 steps:
Click 1 - Bot Libre!
First go to the Bot Libre website.
Click 2 - Sign Up
You can browse and chat with public bots anonymously, but to create your own bot you must create an account by clicking Sign Up. Creating an account is free and easy. To create an account you only need to enter a unique user ID and a password. Your name and email are optional, if you wish to remain anonymous, you may do so.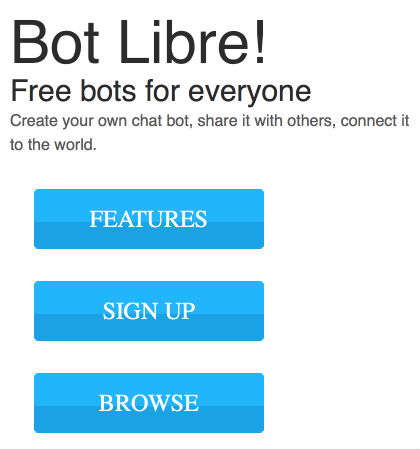 Click 3 - Create Account
Click 'Create' to create your account.
Click 4 - Create Bot
To create a new bot click Create from the top banner. You can give your bot a name and description. The name must be unique and can contain spaces, special characters, and is case sensitive.
The bots you create on Bot Libre belong to you. When you create a bot you can specify the license you wish to share it under. If you allow other users to 'fork' your bot, you release your bots content to them under your bot's license. Also, if your bot learns from the users it interacts with, they must understand they are releasing their interactions under your bot's license.
You can create a bot from the default template, or select one of the other predefined templates. Your bot will start as a clone of the template bot, and replicate its entire memory (brain). You can also allow your bot to be 'forked' and used as a template to other bots, or you can browse other public bots and choose to fork your bot from them.
You can add tags to your bot, to help classify it, and help other users find it. Some relevant tags include 'fun', 'business', 'help', and 'avatar'. The tags are entered as a comma separated list.
You can create either a public bot that will be accessible by other users, or a private bot that will be accessible only by you. You can control the users that can access and administer your bot.
You can choose if you want your bot to learn as it interacts with other users. If you disable learning, then your bot will only learn from its administrator when you 'correct' it, from chat logs you upload from the 'Chat Logs' page under 'Admin', or from AIML and Self scripts you add from the 'Scripts' page. Caution should be used in allowing learning, as other users may teach your bot offensive responses. Bot Libre provides a profanity filter, but it cannot catch everything. If you are creating a bot for business, such as for customer service, then you should disable learning.
You can choose if you want your bot to attempt to comprehend language. Comprehension is very advanced, and when enabled allows your bot to program itself base in the conversations it has. You can view the code it creates for itself from the 'Scripts' page under 'Admin'. Your bot will only use comprehension when learning.
Click 5 - Create
Click 'Create' to create your bot.
That's it, your done, and we still have 5 clicks left.
You can now chat with you bot by clicking 'Chat'. To find your bot again click 'Search' and search for it in 'my bots' (be sure to sign in first).
When you select your bot, you can 'Edit' it to change any of its information. You can change your bot's picture or choose an animated avatar from the 'Avatars' page under 'Admin'. You can also connect your bot to Twitter, Facebook, or email, or have it join an IRC chat room. You can import chat logs, or words from Wiktionary, or data from Freebase. You can browse the internal structure of your bots memory. If your are an advanced user, you can program or script your bot using AIML or the Self scripting language. You can view your bot's log.
To link to your bot you can select it and copy its URL from your browser, this is its unique URL. You can also embed your bot on your website or blog, you can learn how from the embed page under Admin.
That's it, have fun creating your bots. If you have any questions you can contact support@botlibre.com, or chat with the Help Bot